If you have Double Glazing or Safety Glass, please read the following before you contact us. This will help us serve you better.

DOUBLE GLAZING
If you have Double Glazing (aka DGU) we cannot cut a hole and fit a pet door. We must either:
* have a new DGU made, with a hole in it, or
* replace the DGU with Single Glazing (if appropriate).

SAFETY GLASS
Safety Glass (commonly found in full panel doors) will have a mark similar to this, near one corner. We cannot cut a hole in Safety Glass. Instead, we must have a new piece of Safety Glass made, with a hole in it.
WHAT TO DO?
When contacting us, please tell us if your glass is Double Glazing or Safety Glass, and provide us with height and width measurements in millimetres, so we can provide you with an estimated cost. If you accept our estimate, we will then visit you to take precise measurements before ordering your new glass.
---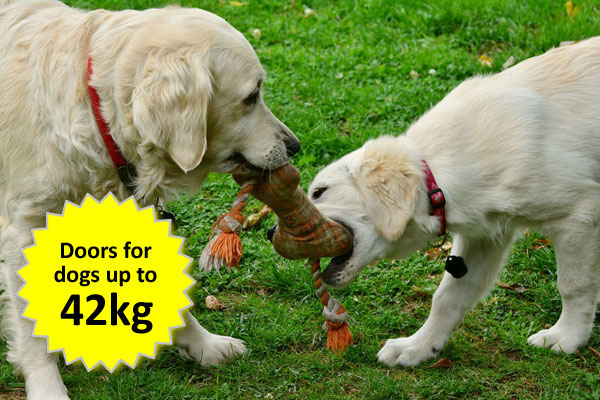 We are Auckland's dog door specialists, the one-stop shop for dog doors, with more than 70,000 pet doors installed!
We sell dog doors, suitable for dogs up to 42kg, throughout New Zealand. Plus, we provide a mobile service to install dog doors in Auckland. For customers elsewhere, we can recommend a local installer.
We have been fitting dog doors into glass and wood since 1980. That's more than 40 years of experience!
You'll find all the leading brands in our online shop, including the latest microchip-activated dog doors. We are even certified to microchip your dog at your home.
Need advice on the right dog door?
Call us today, on 0800 228 366 or 021 990 861.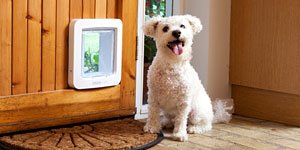 Microchip-Activated Doors
SureFlap microchip-activated pet doors are suitable for small dogs up to 15kg.
---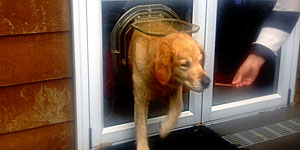 Standard Dog Doors
We sell standard pet doors (non-microchip) to suit dogs up to 42kg.
---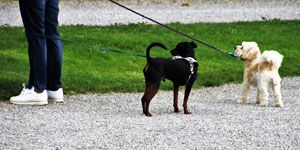 Dog Walking Accessories
See the clever new Dogwalk Combo Drink & Feed Bottle.
---
Happy pets and customer satisfaction are our keys to success.
Call the original pet door specialists on 0800 228 366 or email us. One of our team may already be working in your area!